Okay, first of all, I would like to say sorry to my loyal reader because of the change of plan. I intended to start the homeless day season 2 from when I was roaming in Okinawa but something happened and it made me kinda unable to tell the story at this blog. But to be brief, I did 4 dive logs there and had my very first penetration dive through and L-shaped tunnel in Manza beach. Too bad I couldn't record it with my GayPro because that piece of crap decided to freeze just when I am about to enter the cave. But anyway, the penetration dive was amazing although kinda scary and it did make me a little bit confident with my bouyancy control. That's pretty much about it for the homeless session in Okinawa. As for why I couldn't tell the detailed story about my adventure in Okinawa, read the previous Kesengsem Part 2 post, exclusive only for the Indonesians :D.
Okay, back to Yonaguni,
So, today (21 April 2016), I took the first flight in the morning from Okinawa to Yonaguni by using the Ryuukyuu Air Commuter. The flight took around 1.5 hours and at around 9AM, I arrived at Yonaguni airport and head straight to my hotel. Wait, what hotel? Yes, while in Yonaguni, I am going to stay in a hotel. Why? Did I finally realized that sleeping in Net Cafe is a bad idea? Or did I finally give up my own principle of life? Wow, wow, wow, relax and hold on to your horses, people. I am still the same old homeless Stepen that like Net Cafe (especially the one with free soft cream). It is just that here, in Yonaguni, there is not Net Cafe or such thing. Hell, it is even hard to find a vending machine here. So, with that as my excuse defense, I decided to just stay at the hotel that my dive shop recommended for me.
After I get to the hotel and put my stuff down, I went for the dive shop for some discussion. My plan was to do two dives today, three dives tomorrow, three dives the day after tomorrow, and have a swollen lips from biting the regulator for way too long. Unfortunately, the dive shop said that today's wave (or wind? or both?) was not good so they couldn't take me to a dive. A huge relief to my wallet, but a huge blow to my chance of mocking Eling with another awesome diving video. But anyway, as a responsible diver and future husband to my wife, I decided to follow the dive shop's advice.
To fill my time, I decided to rent a bicycle and go around the island for some biking adventure. The island's circumference is just 22 km (although the terrain is kinda treacherous) and there are several interesting point of interest along the way. So, after renting a bicycle from nearby shop, I went east from Yonaguni port town and circled the island in clockwise direction to avoid Coriolis effect.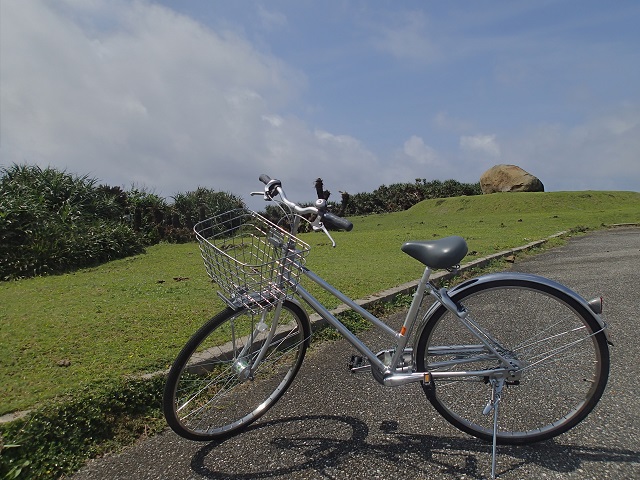 My Rental Bike, Macha The Mama Charie
The scenery was awesome, the wind was awesome, the horses and cows were awesome, the people that I met on the road was awesome, but the sun was NOT. I started biking at 10AM and finished at 2PM with my arm burned like overcooked yakitori. However, overall it was a great and refreshing ride. There are several unique spot worth seeing like The Pillar of Standing God (Tategami Iwa), the lighthouse, and horse/cow ranch throughout the island. There is also a monument that marks the westernmost point of Japan but I didn't get to go there because it on a detour from the island's circling road. But I will go there for sure on 24th, when I am on a cooldown from my dives for the return flight.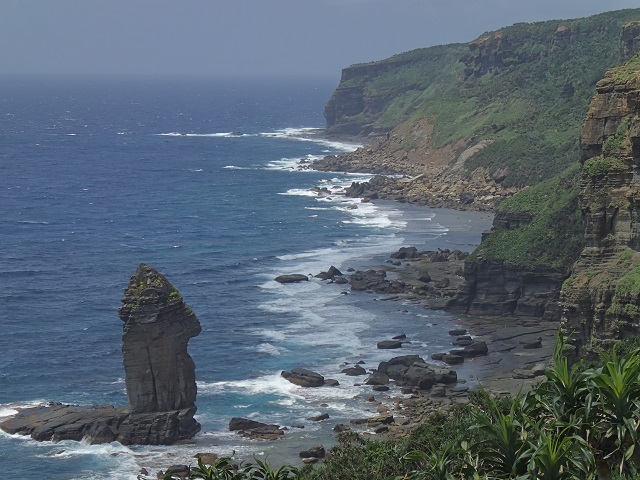 The Pillar of Standing God – Side View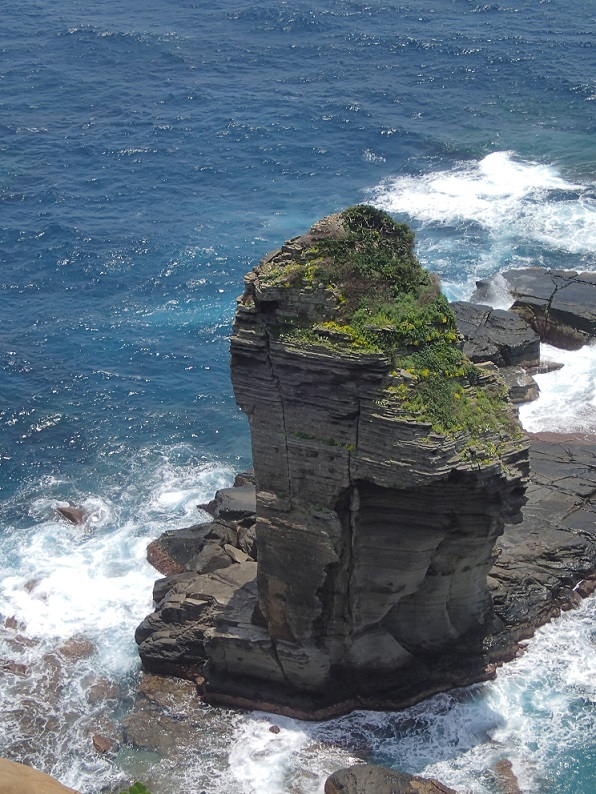 The Pillar of Standing God – Front View
I took a lot of spinning cam at several points throughout my ride and here is a compilation of them with inappropriate background music so that you guys know how awesome Yonaguni is (although horse poop are everywhere).
After the ride, I went back to my hotel and that is pretty much all that I did for today. Now, if you excuse me, I have to take my beauty sleep because I am going for the SDOALT (Scuba Dive of a Life Time) tomorrow morning. Ciao…
Stepen – Getting Lazier and LAzier in Video Editing