At the start of day 3, after a good REM sleep in shinkansen, I reached ShiroishiZao station and saw this epic picture of Okama Crater (also known as Goshikidate) and I decided to postpone the cat island to day 5 and hike to that awesome place instead while I am still in this area.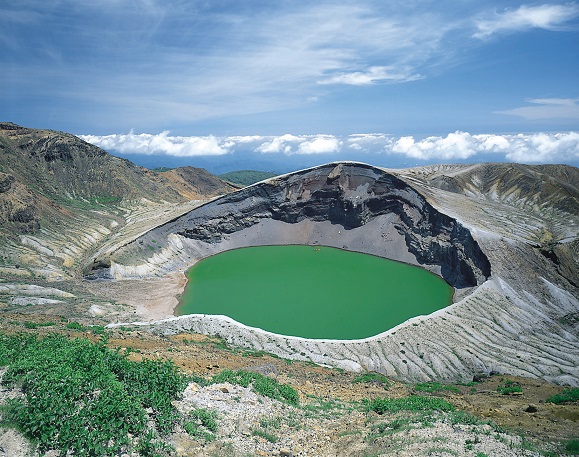 So, instead of taking a refugee in an internet cafe in Ishinomaki (which is the port where you can find a ferry to get you to the cat island), I decided to crash in an internet cafe in Sendai to keep me near Yamagata. That way, I can take the first train to Yamagata, followed by bus from Yamagata to Zao Onsen, then followed by a ropeway to Zao Sancho, then hike to see the epic Okama Crater. Sadly, it turned into a big disaster simply because I forgot that Japan is a four season country and currently it is still considered winter in Sendai area. To be fair, my spider instinct had already tingled several time warning me of such danger, but I ignored it and it really almost cost me my life (No, seriously, I am not joking here. This post is a serious post). Thank god, I still survived and came out with only minor frostbite to my feet. My legendary Diadora shoes (Armor: 50; +25% Running Speed; +25 Dexterity; +10 elemental resistance), however, were rendered unusable because it got drenched so bad now it smell's like Malboro's bad breath.
The story started at 7AM. Yes, I woke up late and it cost me an additional 130 yen and my pride as a professional homeless. I woke up and headed to the station without taking a bath first, which is like any normal days, and found out that it was raining. But I heard The Great Great Johnny English once said, "If you hike in a bad weather, then you are a bad-ass", so I decided to push through with the plan, besides, my accuweather said it is going to be clear at noon. So, I pushed through with the plan, got to a train to Yamagata, followed by a bus and finally reached Zao Onsen.
One thing that comes to my mind when I arrived: This town smells like my fart and I've checked, I haven't farted yet in this town. It turns out that Zao Onsen contains sulfur from the nearby active volcano, which makes this place popular for its sulfuric onsen.
So, I got out from the bus and I realized that it is still raining and somewhat the town was foggy. At first, I thought that was the smoke from the onsen, you know, since this is an onsen town. But it wasn't the onsen smoke, it was a real fog. My spider instinct tingled for the first time and I suddenly have a thought of cancelling this hike because of the fog and the rain. But then I remembered The Great Great Captain Jack Sparrow once said, "If you hike in a bad weather and in a fog, you are a bad-ass", and once again I pushed through. I even went and asked the information center whether the ropeway were running and they said they were, so once again I thought, "Meh, if the ropeway is running, then it is still fine then."
The information center girl did warn me that it is going to be tough to hike now sincethere was some snow and it did make my spider instinct tingled again. But then, I remembered The Great Great Master Sakuragi Hanamichi once said, "If you hike in snow without a crampon, then you are a bad-ass", and once again I pushed through with the plan.
I went on and rode the ropeway until Zao Sancho station, which is the highest ropeway station. I looked around while waiting for the fog to clear and it did cleared up a bit. So, I rushed my way up until I finally reached the first peak, Mt Zoji. And this was where things gone south.
The fog got really thick again and the snow got stronger. Once again the thought of turning back crossed my mind, but then I remembered The Great Great Naruto Uzumaki once said, "If you keep on the hike while the weather gets worse, then you are a bad-ass," so I kept pushing and pushing and pushing while holding my husband hand so tight until I finally heard a cry and saw the doctor carrying my beautiful little baby. It was a healthy baby boy. He brought it into my arms and I couldn't help but tearing away. That moment was so beautiful.
Uh? Sorry, I got mixed up with this pregnancy novel that I am currently co-authoring with Daniel.
Where was I? Oh, the Zoji peak.
Yeah, so I kept on hiking despite the flog and the snow until I finally reached Mt. Kumano's intersection. At this time, my shoes was already fully drenched and it felt like I was touching the snow with my barefoot directly. The fog also got a lot worse that I can see only see two guide poles ahead of me. But that wasn't the one that made me turn back. It is the ropeway schedule. I started the hike around 12PM and it was 2.15PM when I reached the Kumano intersection while the last running ropeway that can take me back is at 4.30PM. So, considering the time and even if I can reach it, I most likely couldn't see anything or take any picture for showing-off (Yes, because that's the point of this entire trip: showing-off) because of the fog and the snow, I decided to swallow my pride, head back, and leave myself open for mockery forever from Eling for not being able to finish the hike. It was really a shame since almost every website that I looked up said it only took 45minutes of hike to see the crater.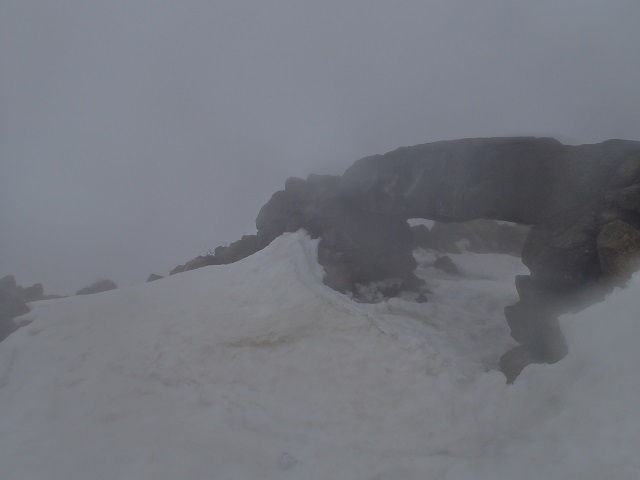 At the TOP (Turn-Over Point)
So, I went back and barely reached the ropeway station on time for the last ride and rode down. Then, I went on to the bus station and rode all the way back to Sendai to crash early at a net cafe in Sendai and took the 9 hour night pack instead of the usual 6 hour pack to replenish my lost stamina and dignity.
Overall, this day was a huge failure but then I remember The Great Great Master Oogway once said, "If you fail but get back up, then you are a bad-ass", so there was I, sleeping soundly at my 2×1 private cubicle, hoping for the best for tomorrow's adventure to the cat island.
Stepen – Not a Bad-Ass