Okay, the second day was not so much fun, but I am getting back on the right path, the path of awesomeness, on the third day. Like the previous day, I woke up at 6AM to avoid extra charge to my night pack (yeah, what an effective alarm clock for me) and jumped on the closest train to Tokyo to board Shinkansen to ShiroishiZao. The rough plan was to go to Shiroishi to see the infamous fox village and then head to Sendai to crash before continuing my journey further north to find the cat island and possibly the mother of my future child. However, I had to change the plan after I reached ShiroishiZao and saw the awesome picture of Okama Crater.
So, I stayed for a bit at ShiroishiZao station and asked around for information and decided to postpone the cat island thing for the Okama Crater, however, the plan of going to the fox village still stand.
After the plan was settled, I was looking around for some other company to share a taxi to the fox village. The normal cheap me would have prefer walking since it only take 3hours to get there. But as a professional homeless, you gotta conserve both your money and stamina and find and optimum point between them. Why? Cause when you overexert yourself, you will find yourself more likely to comfort yourself at the end and spending more. Yes, this is what I called the 'Epic Homeless Permutation Theory'. Imagine if I were to walk, I can save 4000yen at the cost of 800kcal ofmy stamina, but then afterwards, I will be more tired and spend more money on food and hotel which is more likely to cost me additional 3000yen (assuming a flat inflation rate of 5%). While if I share a cab, I can at least save 2000yen while still preserving 800kcal of my stamina. To put it simple to the reader with no academic background, I am too lazy to walk at that time.
After like 15 minutes, 2 girls showed up with a camera dangling from her neck. I straightfully assume that they are going to fox village too since there is no other attraction in the area. So I was thinking, maybe I should ask them to share a cab with. But then what if they aren't planning to go there? It will be quite embarrass, not to mention the possibility being them thinking of me as pervert or the like, which I really am. So, I decided to lay back for a bit, watch them from a far while imagining myself having conversation with them about the taxi sharing. And before I know it, they were gone.
So I waited for another 15 minutes but I don't see any sign of other fox village visitor, so I just decided to take the taxi on my own, which deliver a huge blow to my wallet and my pride as an efficient homeless. Thankfully I was be able to share a cab with a couple of westerner for the way back.
After about 20 minutes of taxi ride, I finally reached the fox village which, for some strange reason that I don't know, has a big gorilla statue in their entrance instead of fox. So, I walked in, pay the 1000yen entrance fee, left my carrier bag at the receptionist (cause they didn't allow visitor to bring any big bag in), and enter the so-called fox village.
To tell you the truth, when I googled about the fox village, I thought it was a real village with people living in it and have their own jobs, but somehow naturally has a lot of foxes in it.  I imagined in those village, the villager and the foxes co-exist happily and because of that the foxes population nourished. However, it turned out that it was more of a small zoo that specialized in foxes and have a big free space inside where foxes can wander freely and the visitor can enter to interact freely with the foxes. A little bit disappointment but it was no big deal since the free space was quite awesome. Some foxes were afraid and alerted when I approached them, but a few was quite brave enough to ambush me and bite my dangling waist bag when I was crouching and trying to take picture of another fox.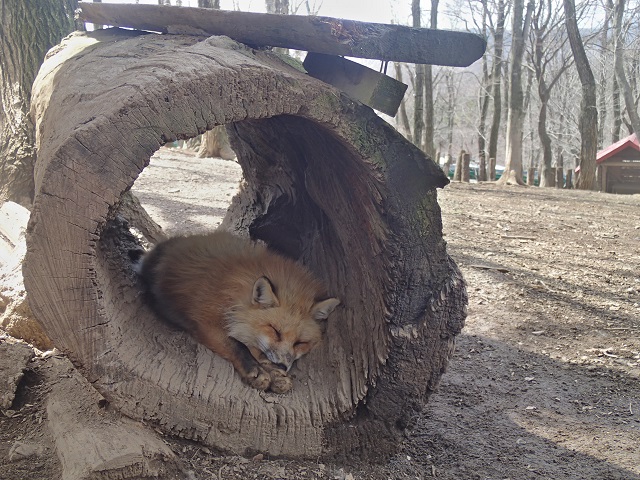 You can also buy some fox food here to feed them for 100yen, but you are only allowed to feed them by throwing it from an elevated platform. I read somewhere that this was done so that the foxes don't learn to snatch things from people's hand.
Actually, I am not really fond of feeding animal. I am having a hard time properly feeding myself, let alone feeding animal. But, since I was here already and the taxi fare is damn cruel, I might as well go all out on this one. So I went to the feeding platform and bought a bag of fox food. One bag consist of roughly ten of short and thick bacon-colored stick. However, I can assure you that they didn't taste like bacon at all. Yes, I took a little bit just to make sure they are not real bacon cause it would be a waste to give bacon to the foxes.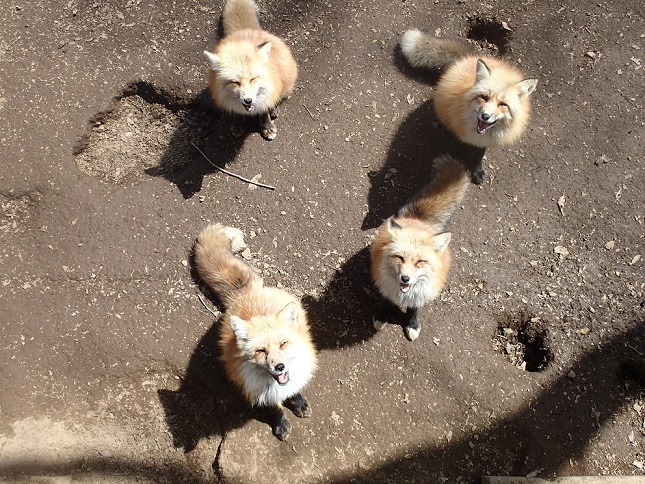 So, me being cheap, I split those sticks into as many pieces as possible so that I have more to feed. I also went as far as rubbing them into my shoes in hopes of making them attracted to me when I wander around. That way I will have an easier time getting good picture. Too bad that didn't worked out cause the food smell couldn't overcome the smell of my feet.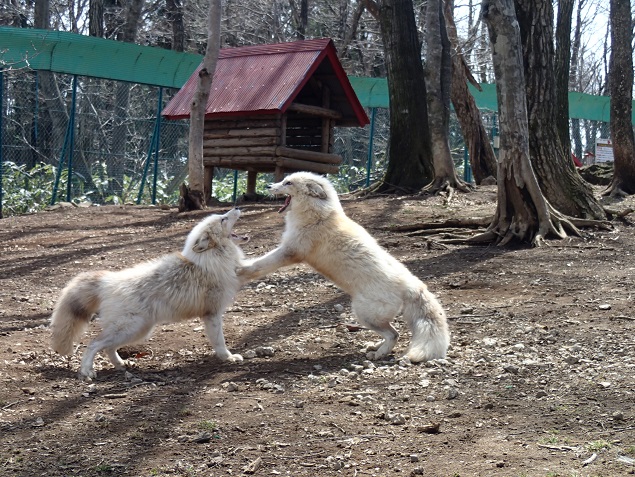 After finished feeding the foxes, I went out again to the free space area to stalk some fox in hopes of getting a good picture for awhile. That went on for like two hours and after I realized that my talent is not in photography, I decided to end this self-torture and head back to ShiroishiZao station because there is some place to see around the station. So, I went back and shared a taxi with a lovely western couple, took a little sight seeing walk around ShiroishiZao station, and then finally crashed at another internet cafe to prepare myself for the hike to Okama Crater on the next day that almost cost me my life (Spoiler alert: I survived).
Stepen – Professional Fox Food Tester