Disclaimer: No, I am not talking about Jack Sparrow's ship in The Pirates of The Carribean (loves the movie, by the way), tapi gw akan membahas tentang burger hitam yang baru saja gw coba makan minggu lalu di Burger King. Get it, okay, let's start.
Gw adalah tipe orang yang makan makanan dengan mata. Yup, it means, gw memutuskan apakah gw akan memakan suatu masakan berdasarkan tampak luarnya (kecuali bila ada paksaan). Gw ga peduli gimana orang laen bilang itu enak dan recommended, tapi klo tu makanan ga lulus visual inspection dari mata gw, I am not gonna eat it. Itulah kenapa gw selalu stay away dari makanan yang klo diliat aj ud bikin ilfil duluan kaya bekicot dan sejenisnya. But rest assured, ladies, untuk masalah wanita, gw melihat mereka dari hatinya (Hati = harta dan properti).
So, kemaren, saat gw lagi jalan2 autis di Kawasaki sembari menunggu belalang tempur gw yang sedang direparasi di Tsurumi (Point to note: Belalang tempur dibenerin di Tsurumi, tapi jalan2 autisnya sampe ke Kawasaki, lihatlah betapa autisnya gw), gw pun memutuskan untuk makan Burger King karena ud lama ga makan. Rencana awalnya sih mau makan Double Beef Bacon kaya biasa, tapi pas nyampe di BK, gw ngeliat poster burger Black Pearl tersebut dan entah kenapa pengen nyoba, walaupun saat gw ngeliat burger tersebut, entah kenapa image bokap gw yg lagi ngaso di taman sambil ngerokin dakinya terlintas di pikiran gw. So, walaupun gw agak sedikit takut dengan burger tersebut, setelah diperhatikan dengan seksama, kayanya ga ada sayuran di burger ini dan gw pun langsung memutuskan buat nyoba burger ini just for the sake of this post.
Bagi yang ga tau apa itu Black Pearl, Black Pearl ini adalah burger keluaran BK yang cukup unik dan sedikit menjijikan sebenernya klo diliat. Rotinya item, kejunya item, saosnya item, cuman dagingnya doang yang ga item. Burger ini sebenernya ud keluar sejak beberapa waktu yang lalu dan McD juga sempet ngeluarin burger sejenis, walaupun sebagai seasonal item. Gw pribadi ga tau terbuat dari apa roti item, keju item, dan saos item tersebut. Gw cuman berharap ga ada hubungannya sama daki bokap gw. Klo dari segi penampakan, kira2 berikut tampak asli dari Black Pearl featuring jempol gw (karena gambar di poster suka sesat).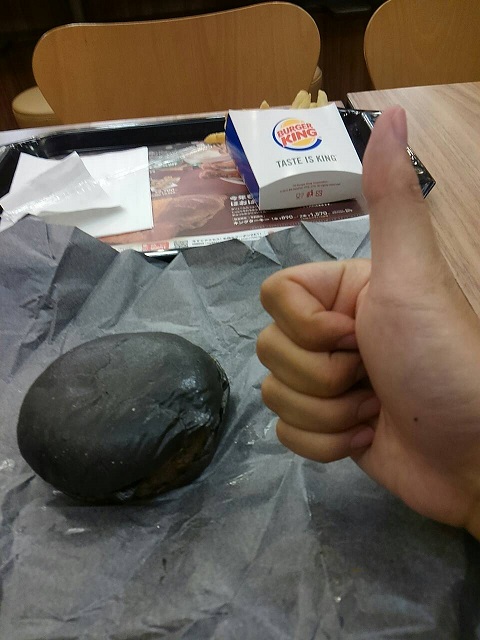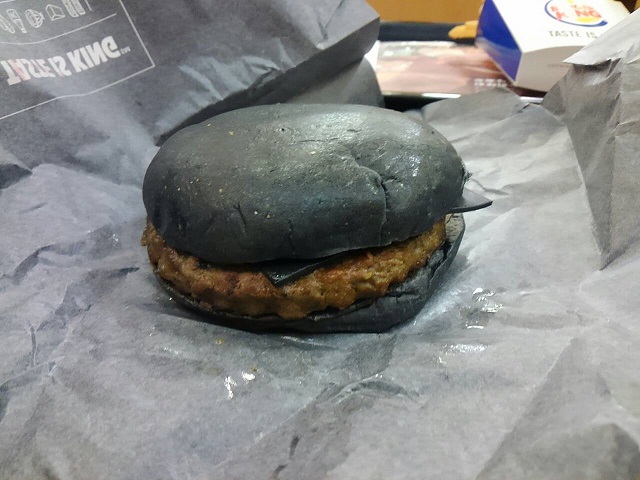 Yang menarik dari burger ini adalah, daleman dari rotinya ternyata item juga. Tadinya gw kira klo rotinya ini roti biasa yang diwarnain item dengan apapunlah, so, harusnya dalemannya putih kaya biasanya, dan ternyata tidak. Dalemannya ada item2nya juga. Gw ga tau ni burger lagi berkabung atau enggak, tapi at least pas ngeliat klo dalemannya item juga, gw jadi merasa tenang karena kayaknya, kayanya loh ya, burger ini bukan item karena pewarna (I am too lazy to google what do they use to make it black anyway).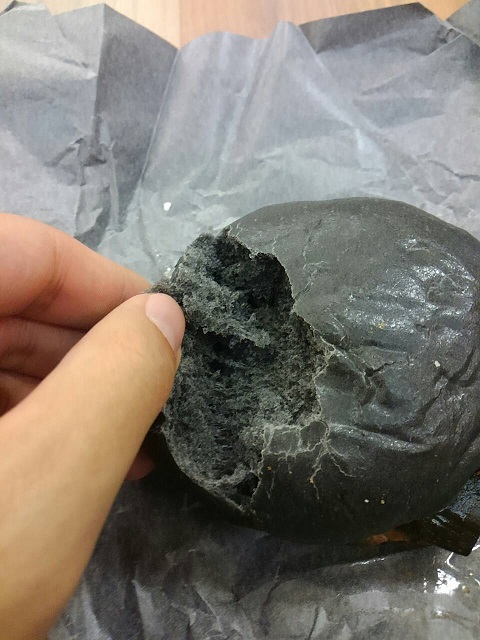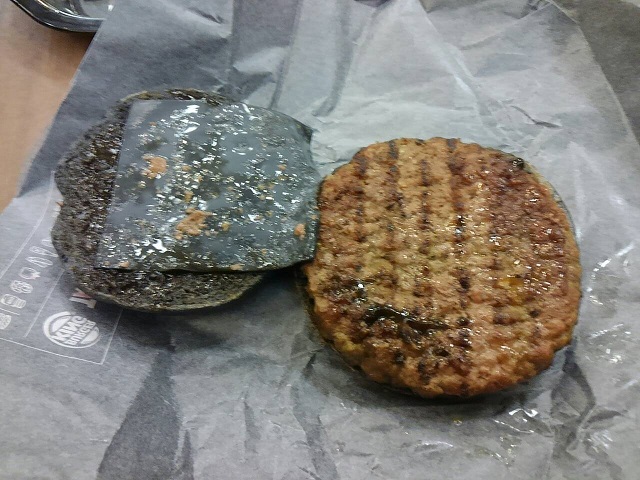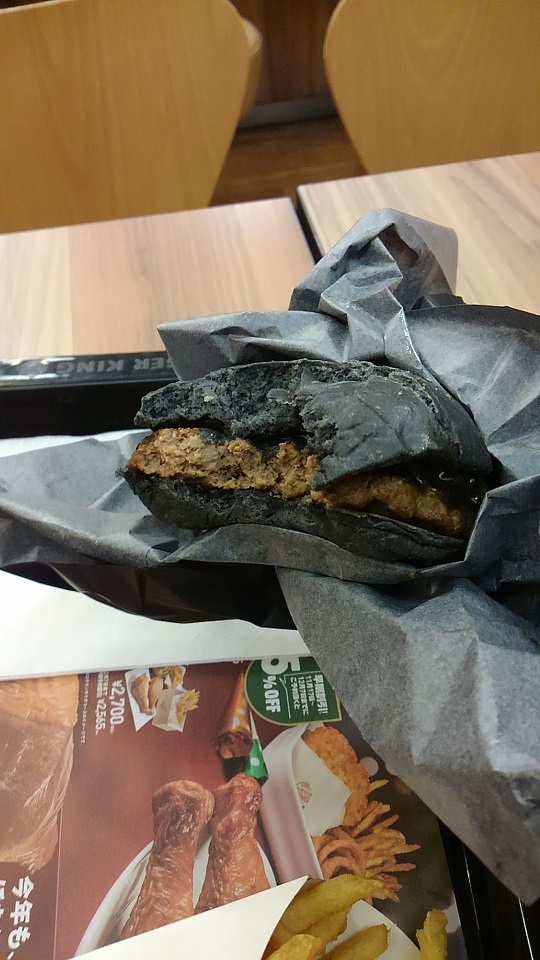 Kesan pertama dari Black Pearl ini adalah baunya. I dont know if it is just my nose yang terlalu dipenuhi cairan2 nista sampe penciuman gw terganggu, but I kinda smell something out of this burger. Something yang agak2 amis2 gitu. Mungkin karena mereka pake tinta cumi kali yah (No, seriously, the one from McD said that the burger used squid ink, but I dont know about this one though). But then, dari segi rasa, it wasn't bad, but it wasn't anything special either. Emang sih rasa saos itemnya cukup unik, but nothing extraordinary out of this burger. Tastes pretty much like the usual burger. Yang bikin gw cukup miris adalah, rasanya biasa aj, tapi harganya sama dengan Double Beef Bacon yang mana dagingnya doble plus ada baconnya pula. Gw pribadi cukup menyesal nyoba burger ini. I should have just stick with the usual Double Beef Bacon. But at least, I overcome my fear of eating foods that is not visually appealing (Bangga untuk alesan yang salah).
Eniwei, demikianlah kira2 review gaul gw tentang burger Black Pearl dari BK. Saran gw bagi kalian yg penasaran dan pengen nyoba cuman satu: try it once for the unique experience and after that just stick to Double Beef Bacon.
Stepen – Lebih suka Double Beef Bacon